12/25/14 COMING SOON - A change to this website: Fairly soon accessing this page will redirect you to the "All Starr Ranch Cams" site (there are currently five cams). It will still have the BNOW cavity and PTZ cam like above and allow comments, etc.. It just makes more sense to me to have everything – especially comments – in one place.
All the comments here that have not already been archived will be and the link to them available on the All Starr Ranch Cams page.
Also, if your bandwidth doesn't let you view the current five cameras simultaneously, all you have to do is click on any of them to pause it and by process of elimination determine how many cams you can view at one time. And any of the cams can be restarted with one click.
In the meantime you can go to the All Starr Ranch Cams site now by clicking HERE. I encourage you to bookmark and start using it because at some point it will be the only way to watch. Thanks. Pete
11/12/14 10AM PST Cavity and PTZ cams will be off for a bit while I put up the Kestrel box and make some adjustments. Hopefully for just a few hours. Also, if you heard some chainsaw activity this morning it's just ground cleanup of the limbs I pruned last weekend. Pete
11/09/14 Cams will be off and on for a bit today while a finally get to make some adjustments, clean lenses, etc. Am also going to see what it looks like when I move the PTZ in and a bit higher if possible to get a better angle. I'm also going to place the Kestrel box nearby so that the PTZ can be used to view the entrance hole (there will also be a cam inside the box). Pete
11/0814 Euc pruning done but took longer than expected, but is done. Cams back up now but will be down for a bit tomorrow when I make some adjustments to them. When I turned cams back on I saw female Kestrel was roosting in the cavity. All is well… Pete
11/08/14 Sometime today the BNOW cavity and PTZ cams will be offline for a while. I need to make some adjustments and further support the boom that holds the PTZ cam. I also hope to put up a Kestrel box w/ cam that the female Kestrel might check out and use. I'll also be pruning some of the adjacent eucs so there would be a few hours of a lot of chainsaw noise… Cams will be back up by end of day. Pete
09/05/14 I'm going to have just the 2 BNOW cams running on this page. If you want to watch all 4 cams, including the trail and "watering hole", go to http://www.starrranch.org/blog/allwebcams.  I just thought it best with two video pages to try to be a bit more organized. Once the BNOWs reoccupy the cavity I'm hoping to have this page be the one more focused on comments about their activity, but feel free to comment on either page as you have been. Thanks, Pete
09/03/14 Audubon California is partnering with L.A. Audubon and Palos Verdes/South Bay Audubon on a project called Wild L.A. Parks, which will bring together teens to identify birds at city parks and educate the community about the amazing natural wonders right in their backyards. The Debs Arroyo Green team will partner with teen groups from the other two chapters. Other L.A.-based chapters will help out. We're in the running for a $100,000 grant from the LA2050 Initiative – but we need votes to get the funding. You can get more details and vote HERE. Thanks, Pete
08/31/14 (my Mom's bday…) OK, all systems should be go. While I am still going to try to get a better cam on the "SR Spa", there are 4 cams running now, including the PTZ which is currently aimed at the new "branch office". I still need to get back up there and put up an additional boom support and fasten some small branches on top of some metal hardware so if anything lands on it they'll be protected and have wood, not metal for a perch. And…if you want to watch all four cams at once, try this: All Starr Ranch Webcams. Enjoy, and please feel free to use the 4 Video page comment section to also provide feedback/suggestions on this new look. Pete
08/30/14 3:30PM PST I have all the wiring cleaned up and 4 cams connected, but having some problems restarting the cam encoders. Jorge is on it. Keep reloading your page.  When he gets these fixed, you'll see the feeds again.  And then I'll follow up later with something else.  Pete
08/29/14 9AM PST I'll be going up to the cavity in a bit to start installing the PTZ. But first I'll check out the "mysterious" material on the cavity floor. I also need to shut down the cavity cam while working on the PTZ, but before I do I'll unmount it and if the cable is long enough I will point it up inside so hopefully you'll be able to see what's above. Keep in mind that I'll be doing this without a monitor, so bear with me… Pete
08/24/14 OK, here's what's going on. Yesterday I was able to construct a new "branch office" so the BNOWs have a perch near the cavity like before. Also built a new boom for the PTZ which I hope to get up there tomorrow. But I still need to do a bunch of stuff before that happens (I could share the details but suffice to say it ain't simple). Today was spent getting the server back from Jorge and reconnected after reorganizing a LOT of cables and connections (still not done…). Am not fishing for thank you's, which you all have been so gracious in giving – Thanks. Just reiterating that this stuff is not straight forward and there's a lot that goes into streaming a webcam, especially ones in wild situations. So it's still gonna take a bit of time before the PTZ is back up. Just know I'm peddling as fast as I can and I love doing this, but just so many hours in a day. Also, Gretchen just gave me a new template for the video feeds that I will share once I get all the hardware set. I think you'll like it… Pete
08/24/14 2PM PST Server update. I just got it back from Jorge and should be good to go. But while it's down I'm taking the opportunity to clean up and organize a bunch of cables, distribution amps, power supplies etc. So all cams (even the one feeding from Jorge) will be down for a while. But hopefully by 6PM PST things will be back to "normal". Pete
08/22/14 Server update Jorge now has the server for troubleshooting and repair. Regarding the backup server, Jorge just needs to update it with some more recent software changes he made to the one that's currently down. I'm hoping he'll be able to make this happen this weekend. I also still need to get the PTZ up, but it's been so darn hot! Any case am going to make an effort to get it done this weekend. Also, and I can't recall if I mentioned this yet, but – brace yourselves… – the "limb" or "branch office" broke off during the trimming. It was going to happen sooner or later, but nonetheless was disappointing. But I have some ideas for getting something up to replace it mostly because it's an important perch for both the adults and, especially, fledglings. Never a dull moment… Pete
08/22/14 7:30AM PST I just rebooted the server and, unfortunately, the same error messages come up so it won't fully start. I'll be in touch with Jorge shortly and will likely have to take it to his house because I don't think there's much more he can try to fix remotely. The good news is that when Jorge put together this server he also put together a back up server (good thinking, eh?). So I should be able to swap them and get us back up ASAP. In meantime, the cavity is still vacant (I can still see all the cams – just can't stream them right now). However, there looks like a new pellet or prey remains are there that I didn't see yesterday so perhaps someone visited last night. Pete
08/05/14 Important note. As I mentioned below about what needs to get done, Southern CA Edison will be here tomorrow AM to deal with the dangerous euc limbs overhanging our 12KV power line, not the least of which are some on the cavity tree. At the same time I will be dealing with other trimming needed which they can't do. I WILL ALSO BE TAKING DOWN THE STATIC (LEFT) CAM on the cavity because I need to reconfigure it along with the new PTZ and I can't do this with it in place. But rest assured I will get it back up there – along with the new PTZ – ASAP. But it may take a few days to do this. Just today I spent a couple of hours on just setting up some of the connections that are needed to keep both cams up and I have a lot more work to do.  None of this is plug and play.  Hope you understand. Thanks, Pete
08/01/14 Southern CA Edison is coming out early next week to deal with the big limb I mentioned below and also to top some other parts of these eucs to prevent them from possibly breaking off and landing on the nearby 12KV power line. The cavity euc is the tallest and is easily 120-140′ tall (remember the cavity is just at 40′) and becoming dangerous- not only because of limbs that may fall on the power line but limbs that may fall in general at anytime and when people might be nearby. So I'm looking forward to their help and to getting these trees to a point where they still allow the BNOW's and the AMKE's to use them but are safe. At the same time I'll also be trimming up lower branches because these are just a catalyst to torch the whole tree (or whole line of trees) should we have fire thru here. In the meantime I have devised a new boom to mount the PTZ once this is all done an will do so soon after the trimming. Further testing of the new PTZ has me feeling pretty good that it will be a lot better than before and should offer us some great view once activity at the cavity picks up again – which I'm confident will. Right now I'm grateful for this hiatus in activity so we can do what needs to be done for safety and for the birds using these trees. Pete
07/30/14 Gonna take a little longer than expected to mount the new PTZ. Am realizing that the boom needs to be a little more heavy duty than the last one and when I was up there today I can't say that this will be easy to do. But I will. However, another recent issue is that a HUGE limb broke off from the top of the cavity tree yesterday and is currently being held up there by a 6-8″ limb directly above the cavity and cam locations. If that gives way it will destroy anything I put up there. So I'm in the process of trying to get Southern CA Edison to clean this up cause this limb and other high branches are really close to a 12KV power line at SR or I'll need to go up there and get it cleaned up. Any case, I'm on it but may take a while. Pete 07/29/14 New PTZ arrived and I started testing. I think it will work out nicely. One nice feature is built in IR LEDs that I should be able to regulate so what ever is viewed at night doesn't get "washed out" by too much IR illumination. But testing is the easy part. I still need to build a custom connection because it runs on different power than everything else and I also need to put together a new mic. And then there's the mounting boom that I also have to custom make. This cam is a lot bigger and heavier than the previous one and when I put it up there I need to have the ability to adjust the various angles, i.e. it's not as simple as hauling it up there and bolting it on. Any case, I'm working on it and hope to have up by end of week. Pete
07/23/14 I should have a new PTZ on July 28th. This one is truly for outdoors, and has built in IR and a little higher res than before, yet cost about the same as the ones I've previously used that didn't have these features. However, it will require some custom mounting (I want to be able to quickly adjust the boom angle should eggs get laid in a corner that might not be very visible) and special wiring. In any case, as soon as I get it I'll be working on setting it up. If you want to see what one of these cams looks like you can here. The nice folks at SuperCircuits gave me a 10% discount and free shipping. Pete
07/22/14 Day time right (PTZ) cam. We have a small herb garden in an old water trough by our house and this little drip has been attracting birds. Among others, have seen Lesser Goldfinches and Acorn Woodpeckers at it. So I figured I'd share it during the day because I'm having trouble getting the second of three PTZ cams working properly (#3 is still way up in another tree that I'm hoping RSHAs will use next season). So today will be looking into buying a new one. I'd like to get something up at the cavity soon, especially while it's occasionally empty. Pete
07/15/14 PTZ update. The original PTZ is "unfixable" so I climbed to the RSHA nest from 2 years ago and took that PTZ down to use on the BNOWs. However, it too has a problem but is one I think I can fix. If so, ideally I will put back up next time cavity is empty during the day. But if it remains regularly occupied during the day I may climb up right before dark to install. If she takes off a little earlier than normal will not be a problem for her. Pete
07/09/14 HOFI nest update. Sometime between Monday night and Tuesday morning the nest either fell off the ledge on its own or was knocked off – and not necessarily by a predator. The latter is much more likely because when we discovered the nest on the ground among it were deceased chicks which by this time were almost completely consumed by velvety tree ants (a very common scenario; velvety tree ants find and consume dead wildlife often and incredibly fast). In discussing this among ourselves we are hard pressed to come up with a predator, especially since the chicks were not taken. Mice and wood rats are known to predate eggs, but not likely chicks, and it's possible that a rodent was scurrying along the ledge and got behind the nest which caused it to fall. Avian species like crows and ravens are known to take small chicks but it is such a tight spot that I have a hard time imagining either being able to get in a position to do this – and they would have taken the chicks. In any case, I'm interested in any thoughts any one has. Feel free to comment below – I will see it. Also, an important reminder – mortality like this is WAY more common than not, especially for chicks that are lucky enough to fledge. Fledgling mortality rates are typically 80-90%. Pete
07/07/14 For those who like watching the trail cam at night in hopes of seeing something, check out this page: http://starrranch.org/wlife_video.html There are some pretty cool videos there. Pete
06/29/14 There's a short section of Bell Creek behind our house that still has a little water.  So several species of birds, and even a bobcat, have been seen drinking out of it though out the day. So before it dries up and while there's nobody home in the BNOW cavity, I'll be switching the left cam to it. Pete
06/19/14 Twenty+ t-shirts are going to the P.O. in the next hour. Also some pellets to "mrsanderson" for her class to dissect. In meantime I still haven't heard from some of you regarding what size/style t-shirt you would like and/or fulfilling your Birdathon pledge. For details look for emails from me on 5/29 and 6/12. -The original HOFI site has a new nest and this morning there was one egg. So I'll be moving the cam to it. -This AM there were fresh cougar tracks in front of our house which is about 100yds from the trail cam. It was walking in that direction. So there's a chance that one walked by the cam last night (they often take this route). Jorge has motion sensing set up on it and I'm about to check with him to see if he got anything last night. Pete
06/15/14 I'm gonna try to replace the PTZ in the next day or two, but have to say it's a bunch of work. Don't have a spare so I need to climb up to the RSHA nest and pull that PTZ and use it. Also need to some other config changes to use it at the BNOW cavity. But in any case I will – and want to – get this done soon. Will also get the HOFI cam focused better. Didn't realize until today that it could be better. BTW, the HOFI in the first cam position just started building a new nest… Pete
06/11/14 I just moved the daytime HOFI cam to a nest nearby the previous one we've been watching but that is gone now and showing no signs of being rebuilt. HOFIs have been building this nest over the last few days. Hopefully they will finish and lay a clutch of eggs. Also, please see my 06/05/14 post directly below. I haven't heard from several of you. It would be very helpful if you could get back to me as soon as possible. Thanks, Pete
06/05/14 T-shirt and Birdathon Update: – I haven't received responses yet from some of you who already donated to the birdathon and are entitled to a t-shirt. If you'd like a shirt, please look for an email from me sent 5/29/14. – Also hope to hear from those who need to fulfill their pledge and in some cases are entitled to a t-shirt. Again, please look for an email from me sent 5/29/14. – Yesterday I got some more t-shirts so now have a supply of all sizes and styles and will be sending to those who provided me their name, address and t-shirt size/style. – Latest pellet count winner, Lynn, asked if in lieu of a t-shirt I would send "mrsanderson306″ some pellets for her class to dissect. How cool is that? Thanks, Lynn!  But I'm happy to do both and have emailed mrsanderson306 and you for your info. Thanks, Pete.
06/04/14 Going forward, t-shirt winners should use
- not to email me their name, address and t-shirt style/size. I have been getting hundreds of spams a day on the "tshirt" email address which get automatically deleted and I fear I might be missing some winners. So I'm disabling it. Also, the new "tshirts" address in my opening sentence is encrypted so hopefully spammers will have a harder time grabbing it. But if you click on it above it should open an email addressed to it.  This also means that it shouldn't be shared in a comment by typing it in (although I think Gretchen may have set things so that an email address entered in a comment may automatically become encrypted). Any case, I want to do all I can to deter spam. Lynn – I put in a comment below for you to send me your info to the old email so I can send you a shirt after your recent successful pellet count win. Please use this new one. Wynne and others who help manage the t-shirt contests/wins – I'll contact you separately about how to share the new email should you need to in a comment. Thanks. Pete
06/02/14 Took the PTZ down today to troubleshoot, fix, or replace. In meantime, while down there will be no sound at the cavity because mic is tied to PTZ (but static/left cam will still be on). There's a mic connected to the static cam but it's bad and that fix is a different can of worms. Anyway, when it gets dark left cam will be the cavity and right cam will be the trail cam until I can deal with the PTZ and get it back up. Thanks now for your patience and understanding. Pete
05/15/14 Finally, HERE is the 2014 Starr Ranch Birdathon Recap. As noted there, if you remember your pledge amount you can fulfill it using a link provided. Otherwise, all who pledged and/or get a t-shirt for: being the first to guess the number of species we'd see/hear or the 100th bird OR pledged $1 or more per OR donated $100 will get an email with details. In the meantime, thank you all so much.   Pete
05/06/14 Starr Ranch Birdathon – we broke the record! But just by one! 175 species. And under the conditions, if I say so myself was amazing that we were able to. But I was with three top notch birders who made it happen. Any case, recap, species list, t-shirt winners, etc. will be provided in the next day or two. In the meantime, thank you all who donated or pledged. Pete
05/05/14 There's a House Finch nesting under the eve of our office and I just put a cam on it. I figured that during the day I'd stream it to the right PTZ. While the BNOWs (and other raptors) aren't doing so great this year, some other birds are still able to do what they do so well. Pete (I'll switch back to the limb PTZ when it gets dark.)
04/23/14 Who are these people? Well, they are three of SoCal's (and beyond, I'm sure) upper echelon birders. These guys are good. Very good. Left to right: Bruce Aird, Steve Alter, and Tom Ford-Hutchinson. Why am I recognizing them here? Because over the past few weeks they have been scouting all over Orange County looking for rare, vagrant, unusual, ANY and ALL bird species in preparation for the Starr Ranch Birdathon – our biggest fundraiser.  This is where we spend 24 hours trying to log as many different species and take the final total and multiply it by the pledges/species we received.  This is where you folks can help.  With only two days to go we are at $22/species pledged.  Our goal is $200 per.  So if you can help out – ANY amount pledged is appreciated – we can strike out knowing that each species logged will really help with some much needed support for Starr Ranch.  Details and how to pledge or make a flat donation are HERE Thanks, Pete
04/01/14 Just a reminder that a pledge to the Starr Ranch Birdathon (scroll down for more info on our Birdathon) is not required to have two chances to win a Starr Ranch T-shirt or a free ticket to attend any raptor banding event we have here. Click HERE to see how to enter (details are about halfway down that page) Pete.
03/31/14 Yes, it's that time of year when we have what has become our biggest fundraiser for Starr Ranch – The Starr Ranch Birdathon. I know many of you have been contributing already via the egg pledge and elsewhere for these Barn Owls and I can't thank you enough. Your generosity makes all the difference when it comes to keeping these cams (and hopefully more) up and running. But we still need to raise a lot more money to keep everything else going at Starr Ranch as well. From our education classes for all ages, to habitat restoration, to something as basic as keeping our buildings in shape – these all require financial support. So, if you're interested in learning what a birdathon is all about and helping us out you can click HERE for the details. Thanks so much! Pete
11/21/13 I believe Wynne has already taken some guesses for when the first egg will be laid (assuming everything goes well).  And I'm going to ask her to give me the details of how more of you can participate so that I can post them here.  In the meantime, the winner will get David Sibley's Guide to Bird Life and Behavior.  Good luck, all!  Pete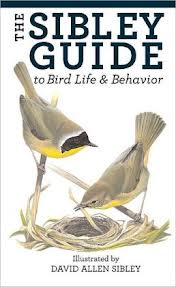 From Publishers Weekly: "This National Audubon Society publication details the 80 families of birds found in North America, with hundreds of Sibley's acclaimed full-color paintings, maps, charts and illustrations. Topics range from the familiar—migration, feeding, mating, nesting—to the esoteric, including feather structure, eye configuration, DNA classification, evolution, hybridization and much more. Readers will learn about bird respiration, metabolism, excretion, vocalizations, senses and intelligence, among other subjects."
10/27/13 Male BNOW ID Some of you may have seen me trying to zoom in on the male's band yesterday. As it turned out I was able to read 8 of the 9 digits (couldn't get a glimpse of the last one) and they were the same as last year's male (1947-1742?). So I have a high degree of certainty that this is, indeed, the same male.  But will need to read the last digit to be 100% certain. If it's a 3, it's him.  Pete
10/25/13 An opportunity to visit Starr Ranch and help us out too…: Help us protect our native habitat! Please join riparian restoration interns Nikki and Michael for some stream-side weeding for 15 Saturdays throughout November to May. Please see our flyer for dates and more details! Starr Ranch Weed Warrior Flyer
10/02/13 Three things: Sandy and I are at Arrowhead Lake for the CA Invasive Plant Council Mtg that Sandy helped plan, is on a panel and giving a paper. So remotely changing the PTZ cam from cavity during the day and limb at night is a bit difficult. However, I will monitor the cams and fix if they go down. Will be back Saturday. There's an important bill in the CA Assembly that can use letters of support sent to Governor Brown. It's AB711 and it seeks to get lead ammunition banned. Among other things, it is well documented that lead ammo and/or its fragments – that can end up in game shot but not collected – gets picked up by scavengers, not the least of which are some raptor and mammal species and often results in mortality. Details are here and provide an easy way to send your letter: If you live in California send the Governor an email. Were having one of our biannual Family Nature Workshops at Starr Ranch on November 2. If you would like to attend, details and signup can be found here: November 2, 2013 Starr Ranch Family Nature Workshops Thanks, Pete
08/24/13 2:00PM PST Jorge here to do some upgrades to the server so cams may be down for a bit. Pete
08/21/13 I talked to someone today who said they saw the Huell Howser show on Starr Ranch just the other night. Here we don't ever know when it's gonna re-air. But it is on YouTube and we think a pretty nice piece on what goes on here. If anyone's interested in checking it out: Huell Howser Show on Starr Ranch Pete
07/17/13 We now return control of your "television set" to you. (Any of you remember "The Outer Limits" TV show…?). Anyway, spent today trimming a lot of dead wood outta the eucs and a lot of low suckers and branches that would be really volatile if we had fire through here. This also opened up some views to other perches, particularly beyond the "branch". Pete
07/17/13 Tomorrow the cams are gonna be down for part or all of the day. I need to do some trimming of these eucs, especially around their bases that have lots of suckers, so if we get a fire here we don't lose them. Will also be routing some wires better (like right now the wire that powers the IR spot on the limb gets driven over 50 times a day and needs to go in a conduit). So please bear with me and know that things will be back up again come nightfall. Pete
07/05/13 Sandy and I taking a long weekend and will be back Sun afternoon. In meantime, while I can change the cam remotely, am gonna leave it on the B/W night view until we get back. Also, I read where you folks say it looks like the 3 fledges are being "weaned", so to speak, and the adults are starting to be the ones showing up on the limb and in the cavity. Exactly how it's supposed to happen… And – challenge still on. Time guess of first arrival (fledge or adult) and prey drop gets a Starr Ranch t-shirt. Winners – see directly below. Pete
Independence Day, 2013 I think we need to agree that if two previous non winners guess the same time and it turns out to be the right guess for first appearance on the limb and first prey drop, the first one who guessed the time(s) is the winner. Also, to help me keep track (not miss emails) of winners so I know what kind and where to send the shirt, if you won, please send the following (in the format below) to: Screen name Name Address Let me know: Youth or Adult Long Sleeve or Short Sleeve SM, M, LG, XL, 2XL (Note – Youth is short sleeve only and SM, M. L.) Thanks! Pete
07/02/13 You folks are AWESOME!!! While there are still some donations that came by mail that need processing, Starr Ranch received over $12,000 in contributions towards the 2:1 match. This support is just tremendous and I can't thank you all enough. Really, a heartfelt thanks to everyone. Pete In response to the questions about $12K+ in donations during the match period actually meaning $36K+ to Starr Ranch the answer is YES! A HUGE boost to the $250K+ we have to raise each year to keep everything going. Thank you ALL! Pete
06/21/2013 In case you get a glimpse the fledgling band numbers, oldest to youngest, are: 1947-17516, 1947-17517, 1947-17518
06/18/2013 If you've been watching and never donated to help keep this cam going – as well as everything else here at Starr Ranch – now would be the time to do so. Until June 30th ALL DONATIONS WILL BE MATCHED 2:1. For example, a $100 donation is actually $300!!!  Talk about getting a great bang for your buck!  So please consider helping us out with a donation of any amount.  It takes real dollars to keep the wheels on everything at Starr Ranch so your support is needed and deeply appreciated. Also, this match applies even if you've donated in the past – which means it doesn't just apply to new donors.  The key part is that it starts today and will end on June 30th. Thanks,  Pete                    Donate HERE
06/07/13 I'm going to move the PTZ to the cavity since it seems the chicks are occasionally standing on or near the lip during the day. Also, if you want to check in on the House Finches, we have a page set up for them HERE. Pete 06/06/13 Cooper's Hawk banding at Starr Ranch, Sunday June 9th, 3-5PM. While Cooper's hawks are one of eleven raptor species to nest on Starr Ranch they are one of the more uncommon ones. However, we do have some active nests this year and at one I'll be banding the chicks on Sunday. If you would like to join me and also help raise funds for Starr Ranch you can make a reservation HERE. Pete
06/05/13 We are deep into fire season – things are dry, dry, dry and fire danger is high, high, high at and around Starr Ranch. If any of you would like to volunteer for the South County Fire Watch that Sandy was instrumental in forming, HERE'S what it's all about. Thanks, Pete
05/31/13 We have a Star Gazing event tonight at Starr Ranch from 7-10PM so I won't be able to work the PTZ. But I'll check in afterwards to see what's going on.  And on Saturday evening will try to work the PTZ for a while. Also, if I can get to it today, I'm going to switch the PTZ during the day to a House Finch nest that's incubating a second clutch.  Pete
05/30/13 Houston, We have lift off… From feather.  Thanks!  Pete Chick #1 Complete Branching Mini-Series (complete and unedited) Lift-off clip: http://youtu.be/mn0Ih4Kq-Is Branching: http://youtu.be/9hZ4Wy246Cg Branching: http://youtu.be/VxJifanCDOc Branching: http://youtu.be/3Td57o_24hY More Branching/Return?: http://youtu.be/Vq0mWlfyFOE (This is what I got – hope it's complete and in order)
05/17/13 Just want to let you know that I'm still editing the RSHA and BNOW banding videos and hope to make available soon. Also, those of you who are getting a Starr Ranch t-shirt through generously supporting our Birdathon, I just got some in and will ship early next week. Pete
05/05/13 Banding Today: I'm going to try to webcast the banding today. If so, it will begin around 1PM PST. If not, I will definitely have a video of all of it available shortly. If the cams are down or working erratically between now and this afternoon it's likely because I'm trying to set up the webcast. Thanks. Pete
05/03/13 Still some spaces left for this weekend's raptor banding at Starr Ranch: Red-shouldered Hawk Banding Saturday May 4, 3-5PM Barn Owl Banding Sunday May 5, 12-3PM
04/29/13 Banding Day I'm going to band these BNOW chicks on Sunday May 5th, 11AM-3PM. If you'd like to join me, details and sign up are HERE.  Banding events like this one are also an important fundraiser for us. Hope you can make it!  Pete In the meantime this VIDEO is of the GHOW banding we did here on April 20th.
04/22/13 The Starr Ranch Birdathon is rapidly approaching (It's next Saturday!) and I could use your help reaching our pledge goal. This is an important fundraiser for us – it helps keep the cams and everything else going. Any pledge amount would be really appreciated. Details are HERE. Thanks! Pete
04/20/13 A few notes about the demise of the 4th chick to hatch. This is not uncommon. You all have seen how the chicks hatch over the course of many days and given they grow quite rapidly the size difference among siblings can be significant and since the female does not feed each individual – i.e. makes sure that they all get something to eat – the youngest, and therefore smallest, chicks have to compete with larger chicks who more easily get in front during feeding and often get most of the food. The female did NOT kill the chick. There is absolutely no reason or stimulus for her to do that. Think about it – she goes through all that effort to lay the eggs and incubate. Why on earth would she then kill one? Last, she or perhaps one of the chicks may eat a dead chick. But that's just efficient us of resources. Pete
04/19/13 GREAT HORNED OWL BANDING.
We recently discovered that a Great Horn Owl cavity in Bell Canyon previously thought to be inactive this year actually has two chicks in it. And they're ready to band. Sorry for the short notice but we'll be banding them tomorrow (Saturday, April 20) at 3PM. If you'd like to attend click HERE for details and to sign up. If you've never seen young Great Horned Owls up close, I can assure you that they're pretty amazing and not something many get to experience. I hope you can join me.
I just learned I'll also have an adult rehabbed Great Horned Owl here for the banding so I'll be able to show you some of their remarkable features.
04/17/13 Two troubleshooting tips: 1- If you're having trouble viewing and want some help, please email me the browser and operating system you're using, their versions, and a detailed description of the problem. Without this info there's little I (or more likely Gretchen) can do to help and we'll just have to reply asking for this info before we can. 2- If you're hearing ads while watching any Starr Ranch cam I'm willing to bet you have another tab or browser window still open in the background on a site that plays ads. We do not advertise on Starr Ranch cams – or any where else on our website – except to display logos of certain vendors who are helping us to provide these cams. "Ad-free" at Starr Ranch is so you can hopefully have the best and most distraction-free experience watching, learning and sharing. On the other side, and as you might expect, this means it costs more to provide the cams and is one of the reasons we ask for your support. Pete
04/11/13 It's Birdathon time! This is an important fundraising event for Starr Ranch where we ask for pledges of any amount for every species we see or hear in a 24hr period. This year we'll be doing our Birdathon on April 27th. Please consider supporting our Birdathon so we can keep providing the nest cams and conducting all the education and habitat restoration programs at Starr Ranch. Click HERE for Birdathon details.
These Bald Eagles are just one of the more uncommon Orange County species we hope to be able to add to our Birdathon tally.
04/01/13 Sorry for the delay, but I want to say a huge !THANK YOU! to those who have mailed us support. It is so very much appreciated and, again, critical to us being able to keep these cams up. And also add more cams – I just put online a Red-shouldered Hawk nest cam. Again, thank you all so much and apologies for anyone I missed. Pete Ann and Monica, Anonymous (several), Mr. and Mrs. Bernhard S, Bill and Mary Ann, Brian N, Carla W, Cecilia M, Christen and Ben, Mr. and Mrs. Chuck L, Claire S, Cynthia H, Cynthia S, David T, Mr. and Mrs. Edward S, Eileen H, Eileen M (every month), Ellen M (every month), Evelyn R, Gordon O, Hank and Karen, Jackson B, Janice K, Jean M, JoAnne P, Joel T, Mr. and Mrs. John H, Joyce R, Julie C-D, Kathleen C, Kathy C, Kay M, Linda A, Linda F, Liz and Willie, Neva W, Paul M, Penny S, Phillip G-J, Rebecca M, Richard P, Robert D, Ronald and Donna, Rosalie W, Roy and Ilse, Ruth M, Sandra A, Sandra S (Emma), Scott F, Sherry R, Steven L, Susan R, Tom R, Virginia M-J, Virginia P, Wendy M, Wilhelmina S.
03/30/2013 - We've set up the BNOW page on new host. Please note the url is http://owlsmatter.com/blog/barn-owl/.  Comments have been enabled for the time being. If you have trouble logging into your account, try clearing your browser cache first, but you may have to use the 'Lost Password' link to reset your password. —
03/28/2013 - While comments are temporarily down (and we continue to scramble for a fix), I wanted to thank all those who have donated to help "keep the wheels on" this site. As you might expect it takes a lot of time and money to keep it all working and your support has been critical. I want to give a special acknowledgment to all of you listed below, who have given online this month or last. Tomorrow I'll list the people who've given through the mail recently. So, big thanks to recent online donors Adelaide, Alison S, Ann S, Anna H, Annette L, Audrey C, Barbara O and Barbara D, Beegies, Bernice D, Beth, Birdmom1, Bonnie, Bookwomyn, Carol S, Carl S, Catherine L, Cathy D, Chris S, Cici, DBW, Daniela Z, Daniella Marie, Dean S, Debra A, Delice F, Del, Dennis G, Diana W, Diane G, Diane M, Donald H, Eileen M, Elizabeth A, Ellen M, Erica S, Feather, Gina A, Glynette, Grahame, Henri, Hindi, Jack D, James N, Jane VK, Jean S, Jeanne L, Jeanneen C, Jeff A, Jenee G, Jill M, Jlese, JoAnne P, Johnnyjoe, John and Karyn, John C, Joy G, Joyce T, Kate M, Kathy S, Kathy G, Kika, Kristi B, Lila D, Linda T, Linda B, Lisa J, Lisa R, Lnmay, Lunar, Lynd B, Lynn P, Madeleine V, Marcia G, Margaret M, Marlene H, Melanie M, Melissa A, Michael C, Michele L, Mimi, Miriam S, MJ G, Moonseer, Natalie G, Pat S, Patricia M, Patti in Marin, Patricia L, Paul G, Paula P, Peggy C, Polaris, Popshib, Rachel_writer, Rebecca C, Rhonda L, Robert B, Rufus, S McGregor, Sally H, Sarah H, Scylla, Sheila C, Shirlee F, Skeptocat, Stephanie C, Susan F, Susan W, Suzi T, Svh77, Sweetles, Teresa G, Tess G, Tom B, Torre T, Trish G, Wildflower, Woodstock, Wynne and Yvette. (Apologies to anyone I might have missed.) Thank you all so much. Pete
03/28/2013 - First hatchling emerged at around 12:30  last night. There is a lot of commentary, links to videos, etc…, on the Starr Ranch Facebook page. — Gretchen
03/26/13 - The CPU usage on this site is still getting hammered beyond acceptable limits with our web host (see below) so comments are temporarily shut down. Sorry about this but it's either shut down the comments for now until we find a fix or the whole site could go down. Again, please bear with us as we try to remedy. Thanks. Pete
03/25/13 - When I looked on 3/22 Friday evening around 6PM, it appeared to me as if one egg had clearly pipped.  However given how much time has passed without hatching, this was probably not the case.  Anyway, if we assume incubation actually began in earnest on 2/23 or even 2/24, today would be about 30 days for the 1st egg.  So let's just all take a breath and see how things unfold.  In the meantime, please pay close attention to what Gretchen has to say below about using this site.  If everyone doesn't cooperate, this could crash this site at a very critical time…  Pete
03/25/13 Please Read - We're experiencing a huge load on our server as hatching approaches. I've enabled page and browser caching to help compensate for this. A side effect is that other people's comments may not show up for several minutes, even when you refresh your browser. Please be patient. Try to avoid refreshing more frequently than every 30 minutes. If the site does not appear as you expect it to, for example, when trying to comment, please try refreshing your browser and clearing your browser cache before reporting any problems. If you do report a problem, please tell me what browser you are using and provide as much information as you can about what you were doing when the problem occurred. Thanks —
03/14/13 Bandwidth Economy – Something you can do that's simple and will help me a lot is when you aren't watching just click on both videos and they should go right to the BNOW chick pic and a play button, effectively halting the stream. When you return, just click the play buttons. This has the same effect as shutting down the page and the videos, but has the added benefit of not having to reload the page to start watching again. This is faster for you and also reduces CPU usage required to reload a page. I would add that what Gretchen, and Jorge, and others are doing to provide these views and the commenting capability is no small task. They, and other folks, are working really hard on this – because we know it's something most will never get to see. We're just trying to give all a relatively simple way of watching a truly wild situation unfold in the rawest sense and learn from it. Put another way – THIS is pure REAL LIFE "Reality TV". Ain't no director overseeing this script. So please have some patience if you experience any problems watching (but do let me know about anything). In the meantime, trust me, we're on it. And at some point it may come to what all of you also need to do to help us keep this page up. More on that later. Thanks, Pete
03/04/13 Here are the egg dates I got from Hibiscus (Thanks!) so far. If anyone has corrections or perhaps a tighter time frame for any, please email me and I'll update. Pete Egg 1 02/22/13 02:11pm Egg 2 02/25/13 03:00pm – 02/27/13 04:00am (Duration of power outage) Egg 3 02/28/13 06:00am – 06:50am Egg 4 03/02/13 12:09pm – 12:36pm Egg 5 03/05/13 02:42PM
03/01/12 Where's the male today?  While more likely when there are chicks, and especially older larger chicks, it's not uncommon for the male to remain out of the cavity during the day. There are plenty of sheltered spots for him to roost. Of course, there's always the possibility that something happened to him, but the probability of this is very low against him simply just roosting elsewhere for the day.  Pete
02/23/13 Research Project for Today: Most raptors, including BNOWs, typically begin incubating eggs after the first egg is laid. And since it takes approx. 1.5 to 2 days for the next egg to be laid, hatching is sequential – first egg laid hatches first, second usually hatches at a later time that corresponds to how long after the first egg it was laid, and so on. But here are some questions: At what stage does an egg need to be incubated so that the embryo inside remains viable? For example, if it was just laid can it sit for days with out incubation starting because no development has begun? If it's been incubated a week, how long can it be left "unincubated" before it will require renewed incubation to bring it to hatching? After 2 weeks? 3 weeks? A few days before hatching? I actually don't know the answer to any of these questions. And I'm also being lazy…I'm asking you folks to do my homework for me! So, if anyone cares to research this and post some info, I'll look at the comments later and put the best explanation here. In the meantime, a little more on what's going on right now: BNOW incubation is typically 28-30 days. While I expected this female to start incubating right away, that she hasn't isn't alarming to me, but interesting. I also have fairly high confidence that she will lay more eggs. And she initially exhibited behavior right after she laid this egg that clearly indicated she "knows" what to do – tucking it under her, pulling apart some old pellets, etc. – in fact she was just doing that as I typed. So my sense is that the probability that everything works out as it should is high. We just need to wait and see. Pete
2/18/13 An interesting development. You know the GHOWs we've been hearing close by? Well they decided to use an old RSHA nest which is three trees over and about 25′ away from the cavity. A female is currently sitting on eggs in it. Pete Bloom reports he's had them as close together as three feet (!). In any case, there's no reason to believe they both won't successfully raise broods. But I suspect it will nonetheless be exciting as things unfold. Stay tuned… Pete
02/10/13 Some of you mentioned enjoying the pic of a BNOW chick that comes up briefly before the video feeds start. Linda Jones took this photo, as well as many other excellent wildlife pics. Check out some of her others at OC Wildlife Pete
01/25/13 Two things for today: SPAM – There's a type of spam that is fairly prevalent and that seems on it's face innocuous. The spam filter on this page picks up most of it and it never makes it to the comments (I'm talking 100′s of attempts). But when one gets through it's usually a comment that says nothing specific about the BNOWs but is often complimentary – something like: "I never thought of that! So great to see folks so knowledgeable about this subject." And a tell tale clue is often one word having two letters reversed (like "sujbect" in my example). The spammers are looking for a response and especially for someone to click on the link associated with their screen name or somewhere else found in the comment. Doing this is where you can really get the full brunt of the spammers nastiness. In any case, there was one on this site yesterday, was called to my attention, and I deleted it. Just asking that you watch out for these and ignore them. PTZ – While the PTZ cam is a good one, it is not designed for outdoor use. Outdoor/weatherproof PTZ cams I have found are in the range of $2,500; the current one cost about $700. So that's a major reason it's not an outdoor cam. However, I retrofitted the current PTZ so that's it's fairly weatherproof. But sometimes damp/rainy weather can affect it and do two things: 1) Fog the lens and 2) Cause the PTZ control to be erratic. E.g. if you were watching when I moved it from the limb to the cavity you may have noticed a lot of "overshoot" on zooming and panning. That's because when I wanted it to stop it wouldn't… Experience tells me this behavior is unique to damp or wet days and rectifies itself when things dry out. In any case, I moved it because I wanted the lens to point downward to try to minimize any water getting in through the lens when it's normally pointed upward towards the limb. Pete
01/08/13 Huell Howser passed away yesterday. For those who didn't know Huell and his various television shows, he was a California icon and brought into thousands of living rooms shows about many of California's unique, interesting, and often unknown people, places and activities. He visited Starr Ranch in 2011 (I just updated the link to the show in the right column) and was just the nicest, most engaging person – the kind that makes even total strangers completely at ease in his presence. You also might want to check out Audubon California's blog for more on Huell. Pete
10/29/12 An opportunity to visit and help us out at Starr Ranch! From Sandy: Help us remove streamside weeds along Bell Creek! Please join our interns, Andrew and Maranda, for a half day of weed work on 15 Saturdays from November through June. Click HERE for the PDF flyer.